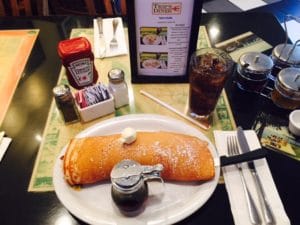 When considering where to eat in the Seminole Florida one should consider the locally owned diner, Trip's. Named after the owner's triplets, the Seminole diner adds its own flavor to the traditional idea of a family owned restaurant. Known for its famous cheese grits and southern corn bread, Trips prides itself on using family recipes passed down from generations.
Accompanying the warm and tasty food, the Seminole diner offers a friendly and lively atmosphere. As soon as you step into the Seminole diner you are greeted with a warm welcome and seated as quickly as possible by our friendly and attentive staff. As friends and family wait for their food to arrive they can entertain themselves by looking at the old Florida decor that makes up their table top.
Hand made in the garage of the owners, each table contains old post cards, maps and pictures of Florida landmarks such as Lowery Park Zoo and the famous Tarpon fishing destination, Boca Grande. Scattered around the walls one can find the same memorabilia in addition to family photos of the owners, Gordon and Louise Stevenson and their triplets, John, Will and Libby Stevenson.
As you finish wiping your plate with the last slice of toast you are tempted to round out your meal with some desert. Some favorites include the 'Better Than Your Mother's' chocolate cake, the 'The Killer Key Lime' pie, and of course, the handmade giant peanut butter and chocolate chunk cookies. Whichever Trips diner you choose, you are sure to make a good choice.
The next decision you must make is when you're going back to Trips Seminole Diner for seconds.